Breast Cream
Breast Cream makes the breast appear firmer, fuller, and more uplifted and enhances the look of contours and curves.
Physical appearance has a significant impact on self-esteem – particularly for women with respect to the shape and size of their breasts. Thousands of women with smaller breasts undergo breast augmentation surgery every year, a step that is usually prompted by self-esteem issues. While a topical product is no substitute for surgery, some woman may achieve benefits from a topical product without needing to resort to something more radical.
Breast Cream contains a combination of natural ingredients to make the breast appear firmer, fuller and more uplifted.
Wild Yam is well known for being an excellent natural source of 'diosgenin', a chemical compound whose structure is remarkably similar to that of the major female sex hormones.
The action of the product is further enhanced by the addition of Saw Palmetto and Fenugreek.  Saw Palmetto is now a popular treatment for prostate enlargement in men but its origins in natural medicine was as a breast enlarger and is still recommended today by naturopathic physicians for increasing breast size.  Fenugreek contains diosgenin and other plant phyto-estrogens which results in the growth of healthy breast tissue.
CELLACTIVE®-FORM is a plant-based complex of active ingredients which supports the natural process of lipid deposition in the skin lending fullness to the bust. The complex of active ingredients has been developed and tested especially for application to the breast and cleavage area. Its active principle is based on the synergistic action of its ingredients Mangosteen, Quincehydrogel and the Essential Cell Boost-Factor. It re-shapes the contours of the cleavage area and optimally accentuates the feminine features.
Below are two studies showing the benefits of Cellactive®-Form for improved skin elasticity in the cleavage area and increased breast volume.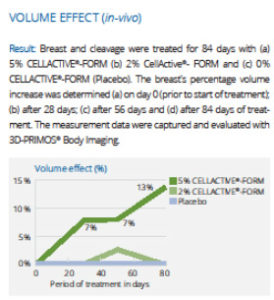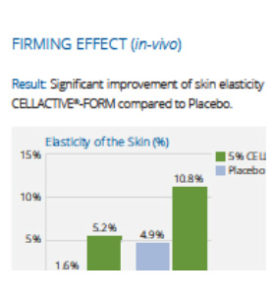 Improved skin elasticity in the cleavage area, firms the breast and smoothes its surface and increased breast volume accentuates femininity and lends fullness to the cleavage (in-vivo study).
Detailed information about Cellactive®-Form is available upon request.