Line Filling and Smoothing Serum
A state-of-the-art serum for smoothing and reducing the appearance of wrinkles and fine lines safely and naturally. Formulated to be a cosmetic alternative to facial injections, the serum has both short and long term benefits.
Dermal fillers based on an injectable form of hyaluronic acid are one of the most popular procedures done at a cosmetic physicians or dermatologist's office.
Many individuals, though, would prefer a less invasive, less expensive, and less risky alternative to facial injections. In the past few years a new ingredient, known as Hyacare® Filler CL has gained significant attention. Also known as 'the topical wrinkle smoother', Hyacare® Filler CL is also based on hyaluronic acid.
This amazing ingredient has been demonstrated to instantly fill fine lines and wrinkles.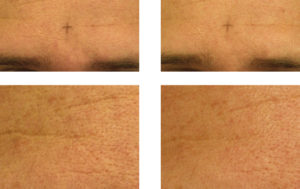 Before Application (Left) – 15 Minutes After Application (Right)
Hyacare® Filler CL has the following benefits:
Instantly fills fine lines and wrinkles
Topical alternative for injectables
Thoroughly hydrates the skin
Increases skin elasticity
Smoothes skin surface
Line filling and Wrinkle Smoothing Serum combines Hyacare® Filler CL with the amazing French derived 'anti-aging' ingredients Matrixyl® and Renovage®.  The result is a state-or-the-art serum which sets a new standard for an anti-aging category product, giving results your customers will love.